The MVS Android Tool v3.0 is a small software for smartphone users. You can use this application to fix device errors.Here, I will discuss the features it owns. Also, a detailed procedure explained on how to download and install this on your computer. Further, I talked about how to use it to fix your Android handsets without damaging it. Read below for more exciting information.
How to download and install MVS Android Tool v3.0?
In the beginning, you need to download MVS Android Tool v3.0. You can get it from the main website. Click on the download option. It will not take long as the size is small. Wait for some time, and you will end up having a compressed file. Remember to copy the password from the website as the Zip or Rar file may be password protected.
Now you have to install it. So, right-click on file and extract it. In the middle of the processing, it may ask you to give the passcode. Paste the password on the dialog box and press Ok. After the extraction completes, the installation will finish.
How to use the MVS Android Tool v3.0?
To use MVS Android Tool v3.0, you need to open the installed software.  Now, enable the USB Debugging mode on your handset. And connect your smartphone to the computer with a USB cable. Use the one that came at the time of buying.  Run the application as Administrator, and a window will appear. You will see a list of features that you can use to resolve problems. From there you have to choose a number and press enter on your keyboard. Soon, it will finish the task and fix your device.
Note: Remember, to turn off your antivirus as it may interfere with the application. You do not have to backup any data as the all in one tool will do it on behalf of you.
What are the features of MVS Android Tool v3.0?
You need to know about the features of this all Android fixing tool. There are a number of them. I have listed them below.
Features
Check device in Normal Mode.
Check device in Fastboot Mode.
Wipe Data/ Cache in Fastboot Mode.
Enter to Recovery.
Restart Device.
Exit Fastboot.
Goto Command Prompt.
ADB Help.
Enter to Fastboot Mode.
Flash Cache.img in Fastboot Mode.
Flash data.img in Fastboot Mode.
Drivers Download.
Flash Boot.img in Fastboot Mode.
Flash Recovery.img in Fastboot Mode.
Flash System.img in Fastboot Mode.
Device Details (build, OS version, brand, Modre).
Show registered Email in Device.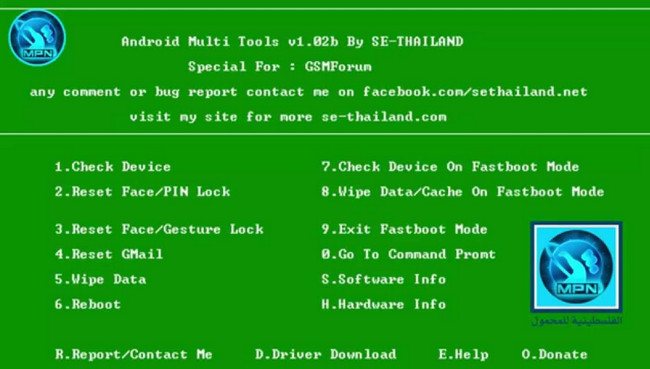 Fastboot Mode
All HTC CID Version Detail.
Write Super CID.
All HTC Read CID.
Flash Unlock Token (Unlock_code.bin)
HTC Identifier_token
Create GoldCard (Not Mind Search in Google).
Final words
In summary, MVS Android Tool v3.0 is a great tool to modify applications. It is free of cost, so you do not have to invest anything except for your time. Users who like to tinker with their handset would love this application. It is small in size and has fantastic features.This Tool Download Link.