The Hurricane Android Mini Tools v3.2 is one of the smallest software to fix handset problems. You can use this application for many purposes. It can remove the backup file and perform a factory reset. Also, it can unlock Bootloader and remove Pin/Pass. It is an all in one tool that has different features that I will highlight later. Also, the primary focus of discussion is how to download and install it on your computer. Here, in the article, you can read about how to use it without hampering the handset.
Rar Password: www.xdarom.com
How to Download and install the Hurricane Android Mini Tools v3.2?
At first, you need to download the Hurricane Android Mini Tools v3.2. You can get it from the main website. Also, you can download it from any trusted third-party website. Click on the download option. You will get a WinZip or WinRar file which will take up to 1 MB space. The tool is compatible with Windows XP and above versions.hurricane android ADB tools
Now you have to install it. Right-click on file and extract it. After the extraction completes, open the folder. Then, go inside the folder and click on the setup file, a window will appear. Go as per instructions, and soon it will start the installation process. As it ends, click on finish. The whole download and installation process is complete.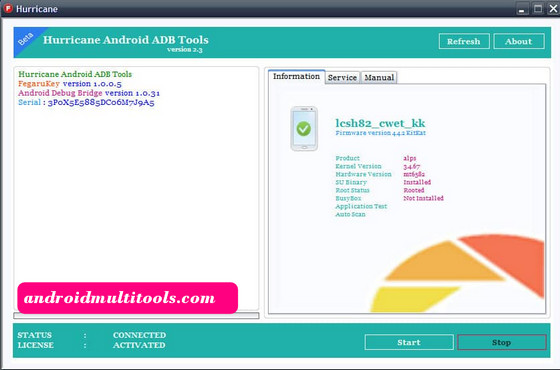 V3.0: Download Link
How to use the Hurricane Android Mini Tools v3.2?
To use the Hurricane Android Mini Tools v3.2, you need to open the installed software. Run it in an Admin mode. You will see a list of features that you can use to solve different handset issues. Click on the one you want, and it will relocate you to a folder. You will see setup file, install it and you are good to use your favorite tool. After installing it, enter into the application. The program will dictate everything you need to do to solve an issue. Now, follow the instructions given by this software. Within few click, you can remove, flash or unlock anything.
Note: Remember, to turn off your antivirus as it may interfere with the application. You have to connect your smartphone to the computer by switching off the handset.
What are the features of Hurricane Android Mini Tools v3.2?
The software consists of a lot of different tools to help you fix any Android device. The developer included some of the best tools. Here, is a list of them for you to review.
Scan and clean malware or suspicious threats on Android device. You must root the phone and install busy box.
Multiple delete/backup selected files.
Factory Reset (ADB) on rooted devices.
Remove pattern/pin/face lock without losing any data (rooted).
Wipe data/cache in Fastboot Mode.
Unlock Bootloader.
Read Wi-Fi History.
Model Finder (Xiaomi, Apple Products) and add iTunes Error list.
Final Words
In short, the Hurricane Android Mini Tools v3.2 is one of the best all in one tool. It consists of different software that you can download and use with ease. Not only this, you can take help to rectify various Android related problems. Try this software, it is free of cost and takes lesser time to download and install.