The OMH Android AiO Tool V1 is a software made by OMH Min Htet. It is a small application that removes locks and viruses. There are different modes available under which you can fix your handset. Also, you can use this program to root your device. The all in one tool has various features that I will highlight later. Also, the primary focus of discussion is how to download and install it on your computer. Here, in the article, you can read about how to use it without hampering the handset.
How to Download and install OMH Android AiO Tool V1?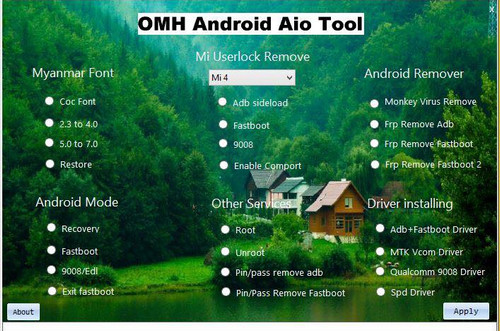 Download Link
At first, you need to download OMH Android AiO Tool V1. You can get it from the main website. Also, you can download it from any trusted third-party website. Click on the download option. You will get a WinZip or WinRar file.
Now you have to install it. Right-click on file and extract it. In the middle of this, it will ask you to give the password. Copy it from the website you downloaded the software. After the extraction completes, open the folder. It does not have a setup file, so you do not have to go through a lengthy process. Now, the whole download and installation process is complete.
How to use OMH User Lock Remover V1 Full Version?
To use OMH Android AiO Tool V1, you need to open the installed software. You need to run it in an Admin mode. Remember, to turn off your antivirus as it may interfere with the application. There is a tutorial in a note document for running the software correctly. Read it for better understanding. Then, you have to connect your smartphone to the computer with the help of a USB cable. You will see a list of features that you can use to solve different handset issues. Click on the option you want and follow the instructions. It is one of the most influential tools for this purpose that solves the problem in few clicks.
What are the features of OMH User Lock Remover V1 Full Version?
The software removes Mi user lock in different ways. Here, is a list of them for you to review.
Myanmar Font
Coc Myanmar Font Android Version 4.0 to 6.0
Myanmar Font from 2.3 to 7.0
Restore
OMH Android Reset Tool V1.2 Download

Android Mode
Recovery
Fastboot
9008/EDI
Exit Fastboot
Mi User Lock Remove
ADB Sideload
Fastboot
9008
Enable Comport
Other Service
Root
Unroot
Pin/pass remove ADB
Pin/pass remove Fastboot
Android Remover
Monkey Virus Remove
FRP Remove ADB
FRP Remove Fastboot
FRP Remove Fastboot 2
Driver Installing
ADB + Fastboot Driver
MTK Vcom Driver
Qualcomm 9008 Driver
SPD Driver
What are the supported devices?
Redmi 3S
Mi 4C
Mi Note Pro
Mi 5
Redmi Note 3
Mi 4S
Mi 4
Mi 4I
Redmi 3X
Final words
In the end, I would say OMH Android AiO Tool V1 is a fantastic application. It enables you to tinker with your device. Also, you can fix problems that are affecting your smartphone. I hope you will get the best from this software. So, install this all in one mega tool for improving your phone.