The FRP HiJacker Tool 2021 cracked version is a creation of Haggard. It is a small application built for Samsung FRP/ Google account bypass Samsung 2021. The software supports almost all the models of Samsung handsets.  Here, I will discuss how you can download and install it on your computer. Also, you will get a glimpse of the features it offers. Not only this, I will explain how to use the tool to fix FRP Hijacker tool.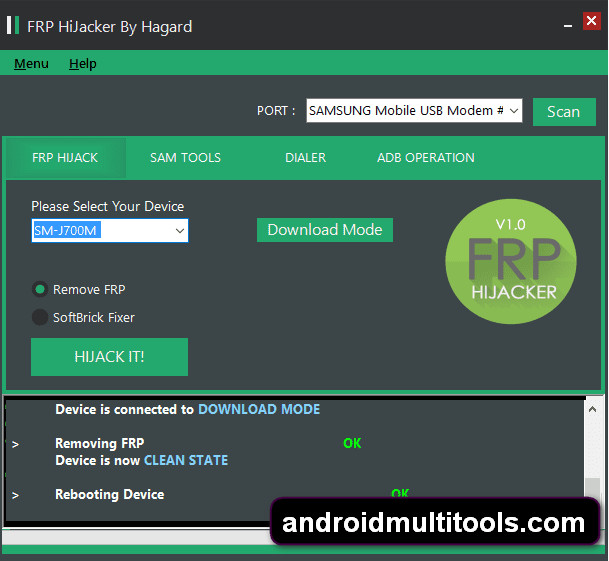 How to download and install FRP HiJacker Tool 2021 cracked version?
To begin with, you need to download FRP HiJacker Tool 2021 cracked version. You can get it from the main website. Also, there are third-party websites from where you can get this software. Click on the download option, and you will get a compressed file. It can be Zip or Rar file.
Now you have to install it. So to do this, right-click on file and extract it. It may ask you to give a passcode to continue the extraction. Do not forget to copy the password from the website you download the compressed file. After it completes, open the folder, and you have completed the installation process.(MobileSea Service Crack Tool Download).
How to use FRP HiJacker Tool 2021 cracked version?
To use FRP HiJacker Tool 2021 cracked version, you need to open the installed software. There you will see an application named FRP Hijacker. Right click on it and run as Administrator. A window will appear that will say FRP HiJacker. Remember, to turn off your antivirus as it may interfere with the application. Make sure that you already installed the handset driver.SPRT MTK FRP Tool.
Now, you have to connect your Samsung device to the computer by using a USB cable. Always use the one that comes initially with your smartphone. Before, connecting it make sure that your phone is in Download Mode. To do this, press Volume Down, Home, and Power Key at the same time. As soon as your device Boots, let go off all the buttons and press Volume up. Now you are ready to connect it to the computer.
Go back to the FRP HiJacker tool and select the device model. Then click on Download Mode. Below look for Ok. If it is there, then you can choose Remove FRP or Softbrick Fixer and tap on hijack it. Again, if you cannot find your phone model, then click on dialer to download it. Further, if it is ADB enabled, then go to ADB tab and press Remove FRP.
Download Android Multi Tools For Remove Android Pattern Lock
Features of FRP HiJacker Tool 2021 cracked version
You need to know about the features of this all Android FRP unlock tool. There are a number of them. I have listed them below.
Remove Samsung FRP in Download Mode.
Softbrick Fixer.
Phone Dialer to bypass Google account.
ADB Enabler Tool.
ADB FRP Remover.
Final words
In brief, I would say that sometimes you need to remove FRP lock Tool. With the help of FRP HiJacker Tool 2017 cracked version, you can perform this with ease. The software will enable you to factory reset everything. And the software is reliable too.
Password: www. gsmhagard.com